 Mediterranean Chef Kitchen
Idan Lifshitz, chef of his signature restaurant "Loco Tulum", has started an incredible culinary venture in Tulum. This unique spot, offers the opportunity to taste his Mediterranean cuisine dishes, in which flavors and colors converge to create a fully authentic experience. Loco Tulum emphasizes the delight of every concept, dish, and sent. Our chef wants to bring true taste for each offering to create joyous moments through pairing, to give your palate the experience you didn't know you needed.

Lo and behold, foodies of the World! For Loco, Tulum is just one of the best Restaurants in Tulum! Everything in Loco Tulum's seasonal tasting menu was designed to puzzle, amuse and amaze you. Impresario waiters, who enjoy the spectacle as much as you do, will show you the way to our endless possibilities Menu. Behind this masterful display, in the depths of Tulum's Jungle, is this talented culinary team and this incredible Restaurant. With all of Tulum's vibes, they've mastered the art of achieving astounding new flavors, textures and aromas. Of course, with the added focus on regional ingredients and sustainable growing practices, you have a dining experience that is both a visual feast and culinary triumph! Welcome to Tulum! Welcome to Loco!
Tavo nos atendió súper bien. La comida está deliciosa, lo recomiendo ampliamente, además de que el ambiente es muy agradable

kerenim2021


September 10, 2021

Excelente atención de los meseros, ambiente a gusto, la comida bastante rica. Lo recomiendo bastante si están en la zona hotelera de Tulum. Las brochetas de camarón están bárbaras!... read more

jes_saP3702EW


August 28, 2021

Me encanto la experiencia … desde la
Llegada a el hotel todos fueron muy amables , el lugar es muy lindo y céntrico del área de fiesta pero el restaurante... read more del mismo hotel es loco Tulum y tiene una música fabulosa y buen ambiente y comida excelente. Leoncio fue el mejor mesero he conocido en mi vida y no exagero ! Se esmeró mucho, también quiero mencionar a Federico que es el mejor anfitrión! Nos trato muy bien e hizo de nuestra estancia una linda experiencia además Ivo… podría mencionar a todo el staff!! No lo piensen y visíten este lugar!!!

glowb458


September 6, 2021

Excelente servicio, comida y atención.
Tavo excelente servicio y atención con los comensales.
100% recomendable para pasar una cena con familia y amigos.

S9217ASmanuelm


September 10, 2021

Hermoso lugar con excelente comida y atencion.
Federico fue un extraordinario anfitrion durante nuestra visita en el resto

facundov926


September 6, 2021

Gustavo (mesero) nos atendió super bien, y la comida estuvo super rica el lugar de lujo muy ameno y bohemio!

F3126LAfernandos


August 6, 2021

Loco Tulum es uno de los mejores restaurantes en Tulum, desde el recibimiento a los comensales, el servicio de sus colaboradores, y la atención personalizada de la Chef Ejecutiva asegurándose... read more que cada persona tenga la mejor experiencia.
Loco ofrece una gran variedad de platillos para todos los gustos y preferencias alimenticias.
Si estas en Tulum no dudes en ir a Loco Tulum y preguntar por Paty y Doro!!!
Las mejores anfitrionas!!

Hlizarraga83


August 5, 2021
Idan Lifshitz, a chef of his signature restaurant "Loco Tulum", has started a culinary venture!. This unique spot offers the opportunity to taste his Mediterranean cuisine dishes. Loco Tulum emphasizes the delight of every concept, dish, and scent. Bringing a true foodie taste for each offering to create joyous moments through pairing. Give your palate the experience you didn't know it needed.
Had the most special last minute getaway weekend at Casa Coyote which was the perfect spot with spacious rooms, great showers and the sweetest touches of detail like the hammock outside our room. Within walking distance to the beach that is just across the small road and next to sweet boutiques and a fantastic restaurant with a bar that served one of the best margaritas!! The CC team and especially Patricia made our stay so easy with effortless check-in and late check-out that allowed us to lazy around Sunday morning at our own pace.
Alezandra Russell
Guest
I found this place, which I visited for at least 3 of the 4 days that I was in Tulum. The owner is really sweet and fun, which made the experience even more enjoyable. Loved the food, the chill music, and the atmosphere. I highly recommend this place
.
The mosquitos weren't that big of an issue here either, unlike other places where we visited.
Michael Saleh
Guest
Most welcoming place in Tulum in my experience. They also offer complimentary shots of tequila as they engage with you and get to know you. Staff are a mix of Argentinean and Mexican. They seem to know their market, have great local knowledge and top hospitality skills. Great place to sit out front for dinner or sit at the bar for drinks.
Herman R. Rogers
Guest
This restaurant is one of my all time favourites in Mexico. The food is otherworldly. If you are looking for a brave and yet extravagant fusion (Mediterranean-Mexican), this place is for you. The dishes are composed of fresh and organic ingredients
.
The cocktails are precise and in perfect balance. The chocolate mousse is simply to DIE FOR! Do yourself a favour and pay this place a visit.
Carol R.
Guest
We hear of this place by friends who advice us to try during our honeymoon trip in Tulum We loved it !!! Patricia and Nicolas took good care of us, little welcome during offered (mimosa) Fantastic food - We took pizza, cezar salad and fish tacos !! Was incredibly good Tocas was one of the best i eat during our hole trip 10 days in Tulum, They offered us shots of tequila, and even free caperina - Really incredible service ! We highly recommend this place, as it should be full every night as its so good. Thank you Patricia and nicolas for the kindness we really appreciated and spent à memorial evening there with you We will come back for sur at Loco 😀
Victoria V
Guest
We stay on a house nearby. We arrived to Loco and immediately, Patricia welcomed us (and everyone who came) with a smile and a cozy vibe. Food is amazing, service outstanding and the vibe just great! Go for breakfast, lunch and/or dinner Tuesday @ night highly recommended!!! Thank you Paty, Sahi, Martina and Caro!
Matias L
Guest
Watch Janny Delér in her famous blog
With 1.3 million followers Janny Delér knows what she's talking about. Check it out: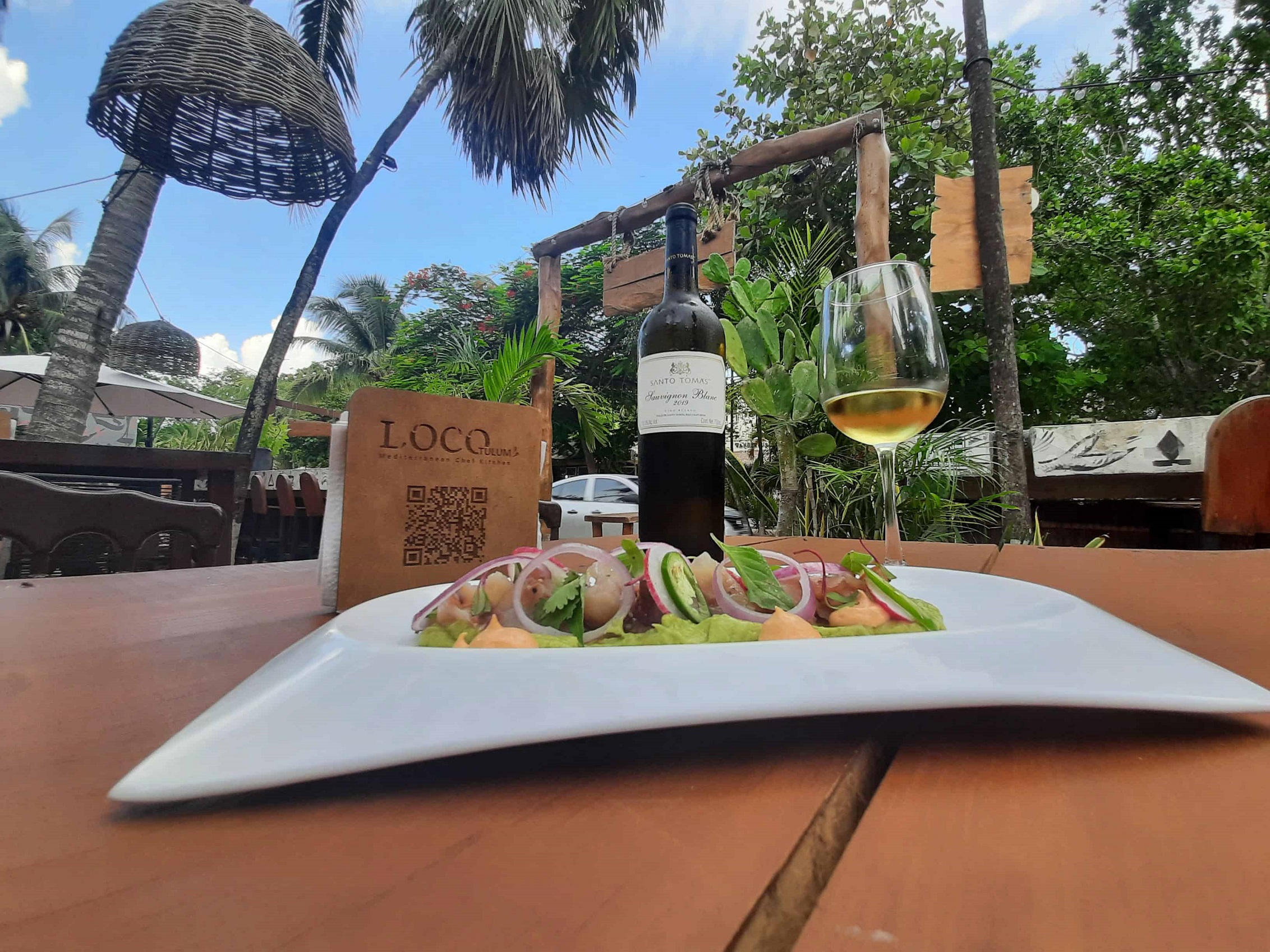 Carretera Tulum Boca Paila Km 9.3,
77780 Tulum,
Quintana Roo,
Mexico
Loco Chef Restaurant in Tulum